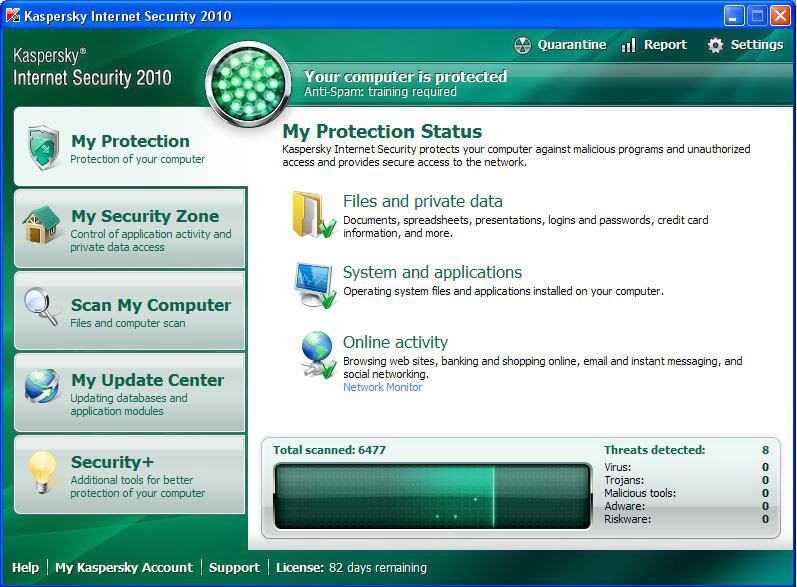 Works 100%.... No More Looking For Keys Daily. Just Use & Enjoy it.
The patch is completely safe
How To Use The Patch----
Just run the Patch and Reboot(If reqd.)
What the Patch Does is that, it converts KIS to Beta via the Registry, so that u sit in peace for a month without looking for the keys.
If Patch does not Work, the details for Manual Procedure r in the file. Consult that Procedure.
If problem exists, report it Here.
If it still doesn't work, some users found re-installing the application worked, or removing the existing license key allowed the patch to work.

COMMON PROBLEMS FACED-----

U Must Read These
*Delete the old key before running the patch.
*Make sure Kaspersky isn't running
*Reboot before activating the beta license

SOLUTION 1:
Only use this method if the patch doesn't work.

1. Download and install Kaspersky (Activate with a Trial License)
2. Go to Kaspersky's settings, click Options, and untick Enable Self-Defence
3. Exit Kaspersky
4. Go to Start, run, then type regedit and press enter
5. Press CTRL+F and type in ProductStatus and hit enter
6. Double click ProductStatus and change Release to Beta (it may say Trial instead of Release)
7. Press OK then open Kaspersky.
8. Tick Activate beta license then press Next and Finish
9. Re-enable Self-Defence.
10. Every 30 days Kaspersky will ask for a license, simply click Activate Beta and boom you're good to go


Download Link :

http://depositfiles.com/files/yqrpyoug3 56.68 MB
http://depositfiles.com/en/files/le2uo2sag 5.42 MB